Join us in the exciting social programme of ECIR 2021!
Guided tour of Lucca: Every day of the main conference, Monday 29th, Tuesday 30th and Wednesday 31st, at the lunch break authors and audience will be able to see a guided tour of Lucca. Antonella Marcucci and Paola Moschini, our fantastic tour guides, will guide you through the most beautiful places of this city, describing its peculiarities, its history, and telling funny stories!
In addition, we are pleased to offer you two live events! Cooking lessons from chef Paolo Monti, who has been running the Italian cooking school in the countryside of Lucca for years.
You will have the pleasure of attending two live lessons, the first dedicated to sauces and pasta, the second a complete menu, with an eye for vegetarian people.
Be inspired! Below you will find the recipes, you can take the ingredients in advance and cook with us!
When:
the first lesson on Monday 29 March at 6 pm CEST
the second lesson on Tuesday 30 March at 6 pm CEST
We look forward to seeing you at the coolest virtual social programme ever!
Get our official conference app
For Blackberry or Windows Phone, 
Click here
For feature details, visit
Whova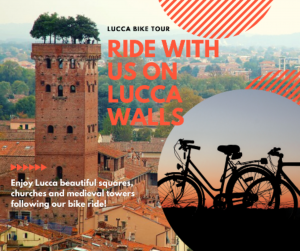 Antonella and Paola, our local tour guides, will lead you on a bike tour around Lucca sharing stories, legends and secrets of the walled city. It is definitely the best way to discover Lucca! Follow us riding the medieval narrow streets, where when you less expect it, you will be in front of the fully decorated façade of Saint Michael church and then the shiny mosaic of Saint Frediano and finally in the middle of a square, which will remind you of gladiators and games. However, the best views are those from Lucca walls: a loop of almost 2.5miles, built in the XVI century, it is nowadays the privileged spot to admire the palaces and their secrets gardens, to see the cityscape made of towers and to feel like a local.
Cooking class
with chef paolo monti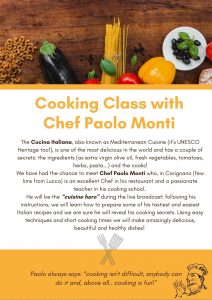 The Cucina Italiana, also known as Mediterranean Cuisine (it's UNESCO Heritage too!), is one of the most delicious in the world and has a couple of secrets: the ingredients (as extra virgin olive oil, fresh vegetables, tomatoes, herbs, pasta…) and the cooks! We have had the chance to meet Chef Paolo Monti who, in Carignano (few kms from Lucca) is an excellent Chef in his restaurant and a passionate teacher in his cooking school. He will be the "cuisine hero" during the live broadcast: following his instructions, we will learn how to prepare some of his tastiest and easiest Italian recipes and we are sure he will reveal his cooking secrets. Using easy techniques and short cooking times we will make amazingly delicious, beautiful and healthy dishes!
Cooking lesson #1 - 29 March
Cooking lesson #2 -30 March
Cooking lesson #1 - 29 March
Download the recipes booklet for Day 1
This is what we will cook during Lesson 1
Salsa di pomodoro | Tomato sauce
Salsa di pomodori ciliegini | Sauce made with fresh cherry tomatoes, garlic and basil
Tagliatelle ai gamberetti e zucchine | Fettuccine with shrimps and zucchini
Fettuccine ai funghi e Marsala | Pasta with mushrooms, cream and Marsala
Spaghetti alla carbonara | Pasta with egg, pancetta and parmigiano reggiano
Pasta all'amatriciana | Pasta with pancetta, tomato, onion and marjoram
Cooking lesson #2 -30 March