On behalf of the Organizing Committee of the 43rd European Conference on Information Retrieval – ECIR 2021,  we invite you to participate in the conference as a financial sponsor. ECIR is a top-notch international conference, spanning both academia and industry. It aims to foster communication and knowledge transfer between researchers and practitioners by promoting the use of Information Retrieval (IR) methods and technologies in industry and by raising public awareness of them. With a strong focus on the active participation of early-career researchers, ECIR is recognized as the premier European gathering place for current and future IR leaders and innovators to discuss and present the state of the art in connecting people with information.
ECIR 2021 has received a record number of submissions (higher than all previous editions) and we are confident that our expert track chairs will provide the attendees with a great program of full-paper and poster presentations, system demonstrations, tutorials, workshops, along with an exciting industry-oriented event.
ECIR sponsors highly contribute to the success of the conference and gain greater visibility for their companies. Your financial support will ensure that the costs of the conference remain accessible for students, and will improve the quality of the conference experience for all attendees worldwide. Moreover, as a sponsor, you will have the opportunity to showcase your company and recruit excellent candidates in the broad area of information retrieval and artificial intelligence.  Due to the COVID-19 pandemic the ECIR 2021 conference will be held entirely online, creating a unique channel to reach a global, targeted audience of future customers, partners and postgraduate students from all over the world.
We offer four levels of sponsorship as described in the packages below. Our packages have been revised to reflect the reduced projected costs due to going online-only. As a sponsor, you will still receive many of the typical benefits normally offered in physical conferences, in addition to innovative opportunities for engagement made possible by the virtual format. We will work with individual sponsors to help tailor their sponsorship needs to support the events, services or functions of greatest interest to them. In-kind sponsorships that directly cover the costs of the conference are also welcome. In these cases, the sponsor name is prominently acknowledged in connection to the specific sponsored activity.
The conference organizers are also happy to discuss alternative opportunities to best suit your needs. If you have any creative or interactive ideas of activity we would be interested to talk to you about how we can incorporate them into a personalized package. All sponsorship levels are quoted in euro.
Please do not hesitate to get in touch with us if you have any questions or suggestions for the conference and the engagement of attendees with the sponsors. Thank you very much in advance for your attention and your support!
Sincerely,
Nicola Ferro, Sponsorship Chair
Raffaele Perego, Fabrizio Sebastiani, General Co-Chairs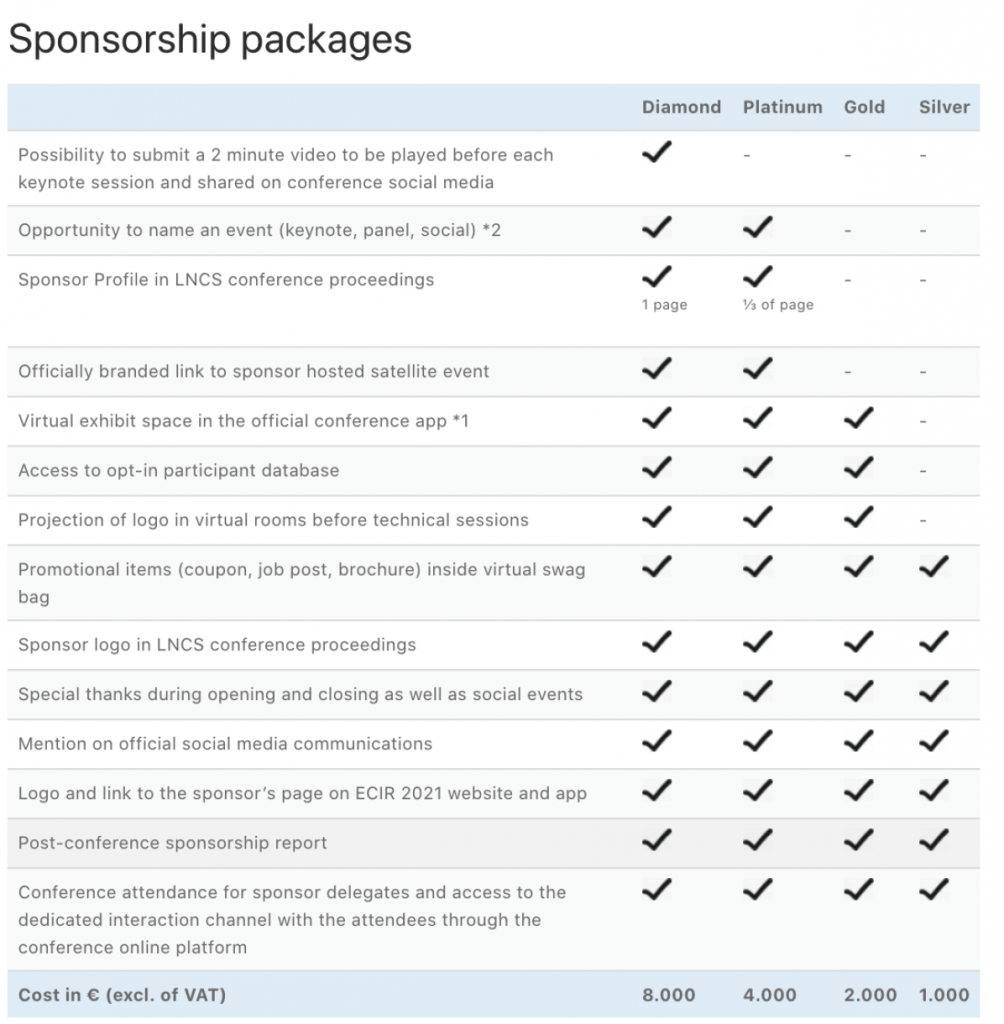 1 Virtual booths will only be available during the three main days of the conference.
2 The availability of sponsorable events is limited. Priority will be given according to the sponsorship level and the order in which the sponsorship fees were paid.